The Grand Slam Sextet
The Grand Slam Sextet debuted at the California Balboa Classic in 2014, and due to the resounding response from the audience, we are thrilled to have them back this year! Inspired by the sound and spirit of the Benny Goodman Sextet, along with Benny's Trios and Quartets, this band features the unique and magical combination of Clarinet and Vibraphone. Thus the Grand Slam Sextet features the iconic front line of Clarinet, Vibraphone and Electric Guitar, backed by the rock solid Campus Five rhythm section. Echoes of Benny, Lionel Hampton and Charlie Christian will fill your ears and rhythm will move your feet.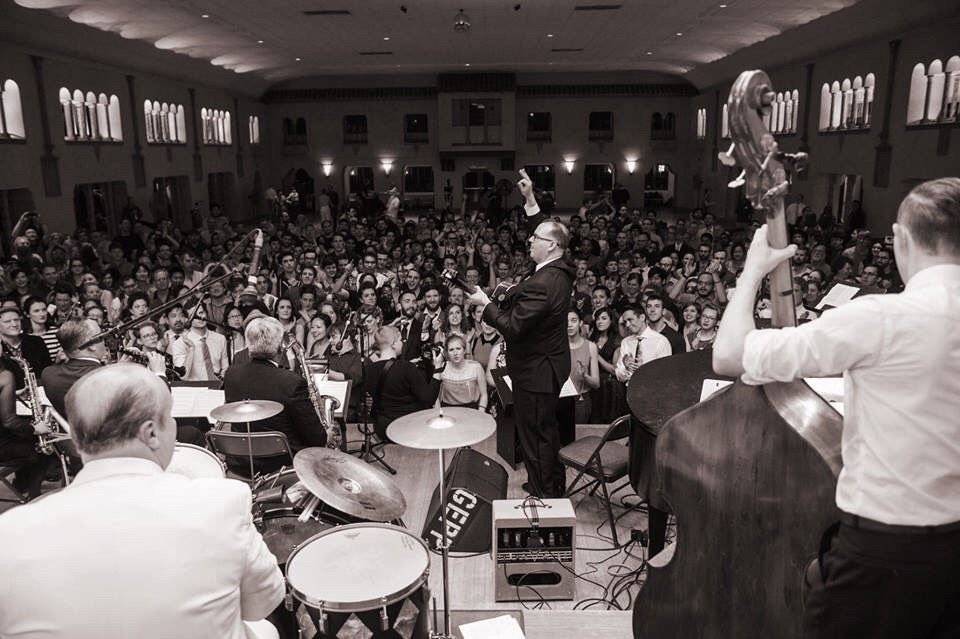 The Jonathan Stout Orchestra
Featuring Miss Hilary Alexander
The Jonathan Stout Orchestra, featuring Hilary Alexander is the nation's premier swing dance big band.  The 14-piece JSO captures the unmatched excitement and true rhythmic pulse of the Swing-era, and is the most danceable big band anywhere. The band follows the templates of Benny Goodman and Count Basie – orchestras that were aggressive and tight, and filled with all-star soloists that bring the fire on every song, regardless of tempo.
The Orchestra was founded in 2004 after promoters demanded a full big band that was as danceable and exciting as the Campus Five. Jonathan and Hilary responded with a big band that was designed from the outset to be the ultimate swing dance orchestra, and has gone on to become the gold-standard in the swing dance world.
The Orchestra has been featured at Swing dance events across the country: (partial list)
Lindy Focus (Asheville, NC)
Camp Hollywood / National Jitterbug Championships (Los Angeles)
The International Lindy Hop Championships (Washington, D)
Midsummer Night Swing at Lincoln Center in 2005, 2011, and 2015. (NYC) 
All Balboa Weekend (Cleveland)
Beantown Swing Camp (Boston)
Seattle Lindy Extravaganza
Austin Lindy Exchange
Rhythmic Arts Festival (San Diego)
Festival and municipal events have included: Sweet and Hot Jazz Festival, Culver City Music Festival, Downtown Anahamein Summer Music Festival.
Les Boulevardiers
Les Boulevardiers is a Django-theme Swing band with the same unmatched danceability and authenticity as the other swing bands led by Jonathan Stout. Les Boulevardiers is a quintet made up of Violin, two Guitars, Bass and Drums that features the distinctively "European" bounce feel, known as "Le Pompe". Jonathan has long been a student of the guitar playing of Django Reinhardt (as evidenced by the Campus Five's recordings of "Dark Eyes" and "Minor Swing"), and Les Boulevardiers is a chance to explore the Django sound, while maintaining a superior level of danceability.
The band's name comes from one of Jonathan's favorite cocktails, the Boulevardier, which itself was named for a term meaning "man-about-town, or bon vivant." Just for fun, here's Jonathan's preferred recipe:
Boulevardier
1.5 oz Bourbon (Elijah Craig 12yr)
0.75 oz Campari
0.75 oz Sweet Vermouth (Carpano Antico or Cocchi Vermouth di Torino)
Stir over ice, strain, serve up with a fat Lemon Peel, and then put on some Django.
Kyle Smith
Head DJ
Originally from Los Angeles, CA, Kyle now makes his home in Denver, CO. While his dancing and music career started as a night out almost 2 decades ago with friends in San Francisco, it didn't take much before it turned into an obsession. Initially being turned onto swing music by Louis Prima and Frank Sinatra, he has expanded his musical passion throughout the years, but his roots are still the likes of Benny Goodman, Count Basie, and Duke Ellington.
Bringing his deep passion for classic big band swing, Kyle is honored to have been a part of hundreds of swing events throughout his career. As the head DJ for All Balboa Weekend and Eastern Balboa Championships, Kyle has been instrumental in guiding the balboa music landscape. At the events he is honored to be a part of, he is often serving as competition music coordinator, giving presentations on the history of music or leading an annual DJ summit.
Despite being a part of many great balboa events such as Balboa on the Promenade and The Experiment, Kyle shares an equally strong passion for lindy hop. Starting as a lindy hopper in 1996, he has been a part of Camp Hollywood since 1999 and has had the pleasure of bringing his music to such great lindy hop events like ULHS, Inspiration Weekend, and Lindy Focus.
Kyle has taken his passion for classic swing music and turned it into a series of successful talks at many of the events he travels. With topics ranging from The History and Passion of Swing to Benny Goodman: King of the Clarinet, This Music Sucks, and Django Reinhardt: A Centennial Anniversary, Kyle's enthusiastic presentation style and musical knowledge makes him a popular attraction at any event.
One of his greatest talents is his ability to hand select competition music that both inspires and energizes the competitors and audience alike. He holds standing Head DJ positions at ABW, EBC, Lindy On The Rocks, RMBB and The California Balboa Championships. Kyle has also been fortunate to help the competition music at Camp Hollywood and the US Open.