New Venue Alert!
Exciting news for California Balboa Classic 2024! Our 10 year anniversary will be held a our newest venue, the Los Angeles Marriott Burbank Airport in Burbank, CA.
We request that you do not book more hotel rooms than you will use and do not book a hotel room until after you have registered for CalBal.
If you wish to cancel your hotel room reservation, kindly assist us in ensuring that your room is returned to our group block. Please reach out to the hotel via email or directly call the customer service desk and request to have your room reinstated within the California Balboa Classic room block. (Please do not cancel your room via the hotel front desk or online.)
Customer Service Desk: +1 818-843-6000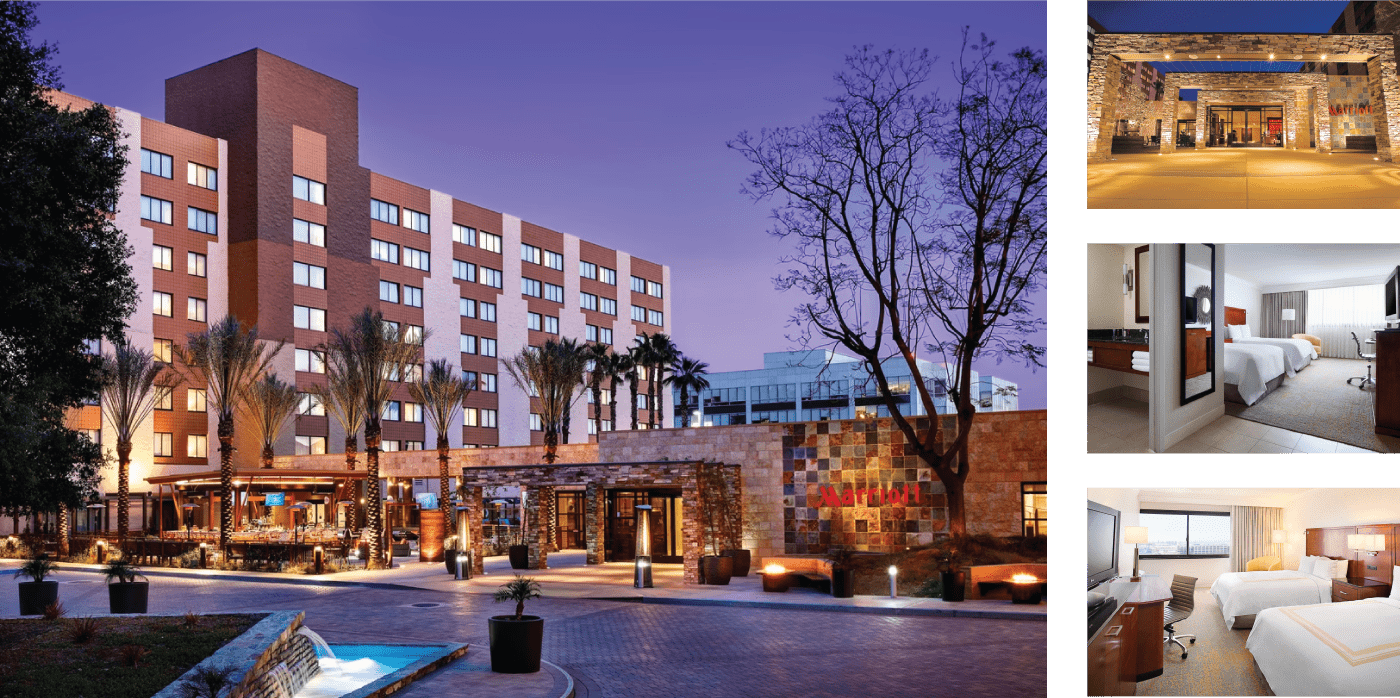 HOTEL AND VENUE
LOS ANGELES MARRIOTT® BURBANK AIRPORT
2500 NORTH HOLLYWOOD WAY,
BURBANK, CALIFORNIA, USA, 91505
With 50,000 square feet of deluxe meeting facilities, breakout rooms, culinary team and a free shuttle to the Hollywood Burbank Airport (BUR), make this a premier conference center in the city.
When you're not dancing, you will appreciate socializing at the Daily Grill restaurant and bar, the Media Lounge, and the outdoor EDB bar with its fire pits for a peaceful evening under the California stars. When it comes time to turn in, the two guest towers comprised of king and double bedded rooms, 93 suites, and feature luxurious accommodations with soft, comfortable bedding, provide a sound night of sleep.
Southern California's attractions, the Warner Bros. Studio Tour, Universal Studios Hollywood (VIP Back-lot Tram Studio Tour) and CityWalk are located 10 minutes away for a group outing.
Burbank Empire Center – shopping destination 1 mile nearby the hotel featuring retail stores and more great food options!
Affordable Food across from the hotel:
Panda Express
McDonald's
Del Taco
Starbucks
George's Greek Cuisine
Sansai Fresh Grill & Sushi Kitchen
Denny's (24 hours)
Or see what the hotel has to offer!
Room Booking Info
Discounted hotel rooms, daytime classes, evening and late night dances are all at the LA Marriott Burbank Airport Hotel. CalBal has obtained a discounted room rate of $169/night (good for two days before and after the event). This rate includes discount parking for hotel guests and event guests.
To access the group rate: register for your CalBal 2024 pass and then go to your CalBal 2024 account page. Your account page is where we will put important event information and exclusive offers for CalBal 2024 pass holders.
Parking
We are pleased to confirm reduced self-parking rates as follows:
Overnight self-parking: $12 inclusive of tax with in/out privileges
Day Visitor/Event self-parking: $12 inclusive of tax with no in/out privileges

Airports
Burbank Airport (BUR)
Bob Hope Airport in Burbank, CA offers a free shuttle ride from airport to hotel. Call the hotel upon your arrival and they will send a shuttle to pick you up.
Los Angeles International Airport (LAX)*
The best option from LAX is to take Uber, Lyft, or another ride sharing service to Burbank. This is about a 50 – 90 minute trip depending on traffic.

Ground Transportation
Shuttle Services from Los Angeles (LAX)
If you are not renting a car, we recommend booking a shuttle in advance. Please note, the hotel does NOT offer shuttle service outside of Burbank. If you are arriving & leaving Los Angeles at the same time as other dancers, consider booking a group shuttle for a faster trip.
Super Shuttle
Prime Time Shuttle
Roadrunner Shuttle
$20 to LAX
Public Transportation
Using public transportation is possible is the Greater Los Angeles area, but can be time consuming and complicated, especially with luggage. We recommend finding alternatives such as using our Facebook group to share rides.
These are a few public transport options:
LA Metro
LA airport to Burbank:
LAX Fly Away Bus 50 – 90 minutes, $10-15
Burbank airport to Pasadena:
Metro Local 222 & Metro Express 501
50 – 90 minutes, $3